Harris Spray Wax
Have you tried Harris Spray Wax? If you haven't, you're missing out on one of the best car waxes in today's market. Spray car waxes are often underestimated, but they can be very effective in giving your car the long lasting shine your car deserves! It's all a matter of application. Here are some of the benefits you may find from spray car wax, and some tips to get a good shine on the car.
Spray Wax is a great alternative for traditional waxes because of its simplicity. Using spray waxes also helps maintain and restore the clear coat on your car. Spray wax is one of the most effective ways to wax your car quickly and easily. If you are looking for that detailed look, then look no further. Maintenance is minimal and you can always give your car that little touch up before a show without the hassle of machinery.
Benefits of Harris Spray Wax
Even though spray wax is still partially a liquid car wax, it contains the same great ingredients that traditional waxes have. Spray waxes provide a great durable shine and UV protection. Even though most Carnauba paste waxes can last more than a month in Pakistan's extreme weather conditions, our spray wax surpasses most synthetic paste wax protection time with an incredible durability. This is due to the fact that Harris Spray Wax contains a special blend of Carnauba Wax, & synthetic polymers that seal your paint, and protect from UV radiation, and other weather extremities. All of this makes Harris Spray Wax a great car wax to use.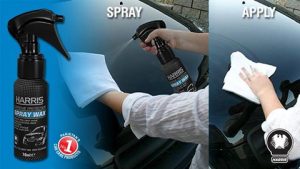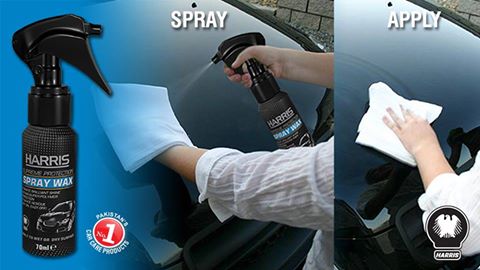 Application of Spray Wax – Spray onto Microfiber, and simply apply onto car!
Ease of Use
Spray Wax works great with your car and is very easy to apply, leaving a great shine to the exterior. It should take less than a quarter of an hour to wax the entire surface of your car. Having a spray wax means you don't need to buff the wax. It simply remains as shiny as it did when you put it on. Because Harris Spray Wax doesn't have contain harsh acting chemicals, it allows you to easily maintain the shine of your car. You shouldn't have any problems with swirling your paint anymore.
Getting a Good Shine
The best suggestion when considering using a spray wax would be to use another paste wax like Carnauba waxes. First take the time to apply a Carnauba wax correctly. This will help ensure the longevity of your wax job. Properly buffing the paste wax should give your car the shine you've been looking for, and thus maintaining the factory look is simple with spray wax. Spray on the wax and spread it evenly over the surface of the car. That's all there is to it.